Products
China Magnetic Turbo Blower,Roots Blower,Roots Vacuum Pump,MVR Steam Compressor Supplier and Manufacturer Since 2007
RSR Series Three Lobes Roots Blower
Bore size:50-300mm(2-12″)
Pressure Rise:9.8-98Kpa
Air Capacity:0.6-184m³/min
Motor Power:0.75-280kw
Lubrication:Oil
Drive model:Belt or Coupling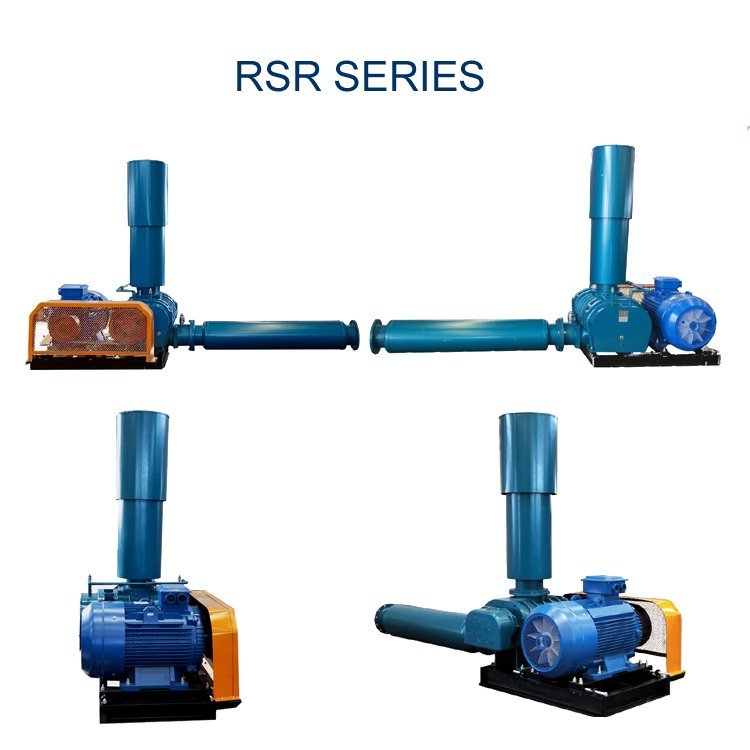 1.All models of RSR series
RSR-50 RSR-65 RSR-80 RSR-100 RSR-125 RSR-150C RSR-150 RSR-175A RSR-175 RSR-200A RSR-200H RSR-250D RSR-250A RSR-250B RSR-250E RSR-300A RSR-300C
2.Size of Discharge Bore
50(2″),65(2.5″),80(3.15″),100(4″),125(5″),150(6″),200(7.8″),250(9.85″),300(11.8″)
Or in customer's indication range
3.Differential pressure scope
9.8-98kPa
4.Air capacity scope
0.6-184m3/min
5.Power of the motor
0.75-280kW
Necessary standard accessories(common type)
Tuyere take over;entrance&exiting silencer(with air filter);flexible connector; check valve; foundation bolt; deflating valve; pressure gauge; base ;gear oil
Necessary standard accessories(nickel plating type)
Tuyere take over; entrance&exiting metal bellows; foundation bolt; pressure gauge; base; gear oil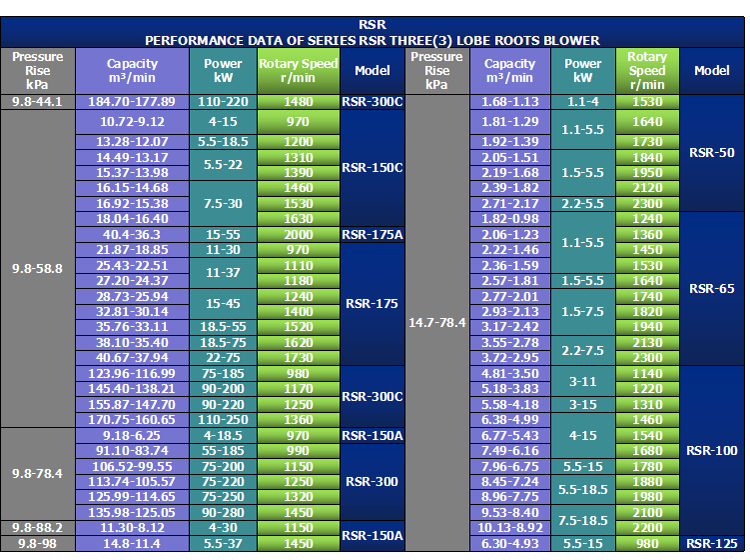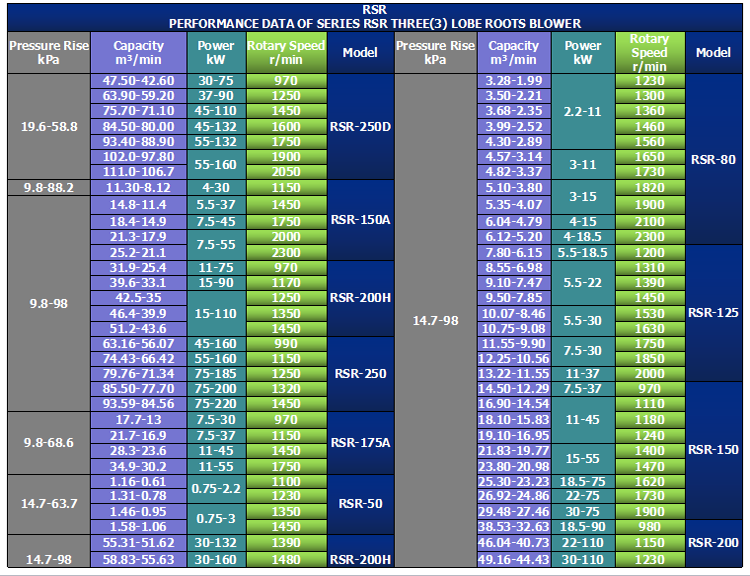 A: Machine Casing Machining Component
Machine Blank-production&testing – Rough milling – Finish milling – Borehole -drilling&tapping -Testing -Stock
B: Lobes Machining Component
Machine Blank-Production&Testing-Lathe Facing&reaming hole-rough plane-finish plane-
semi-finished products -shaft installation-make static&dynamic balance
C: Drive/Driven Shafts Machining Component
Steel rod testing -cutting -Heat treatment -Bore Holes-Lathing smoothing-install shaft into the lobes-testing-stock.
Shangu brand coupling Drive filter backwash roots blower raw water filter processing
D: Wall Plate Machining Component
Plate Blank production – plate wall milling – bore holes -testing -stock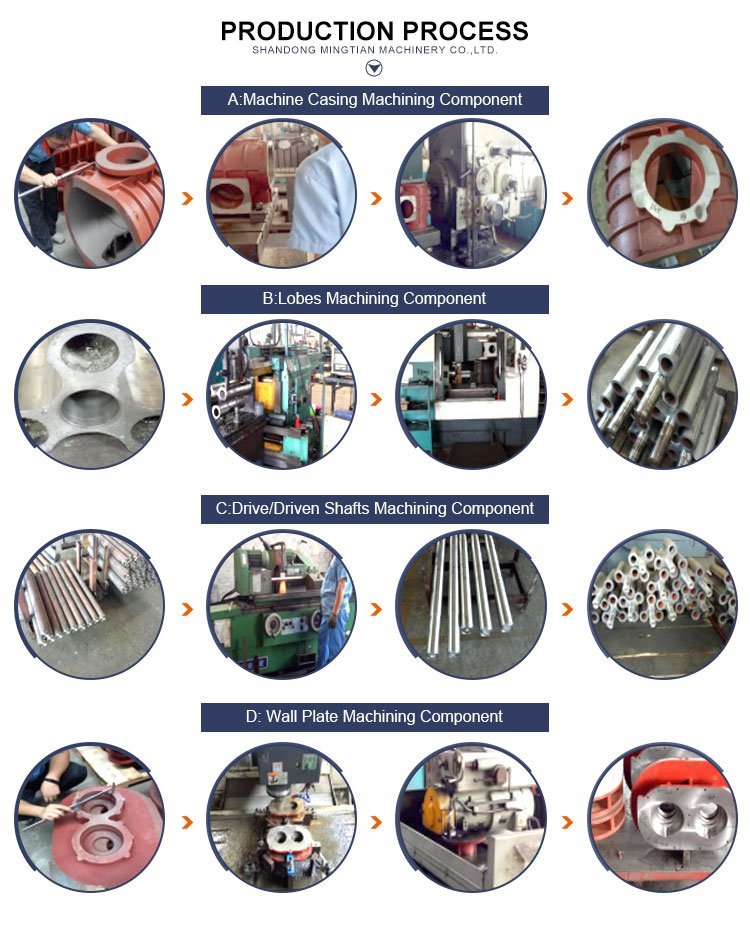 Wastewater/Sewage Treatment Plant

Cement Plant Kiln Air Supply

Quicklime Plant Kiln Air Supply

Pneumatic Conveying System

Aquaculture Aeration

Power Plant

Special Gas Delivery(Biogas)

Food Vacuum Package

Gas Combustion Supporting

Flue Gas Desulfurization

VPSA Oxygen Plant
Incinerators

Pipe Clearing

Ozone Implement

Compost Ferment

Plating Bath

Frozen Food

Airlift Pump

Press Machine

Back Washing

Imprinter Paper Feeding

Powder and Grain Transportation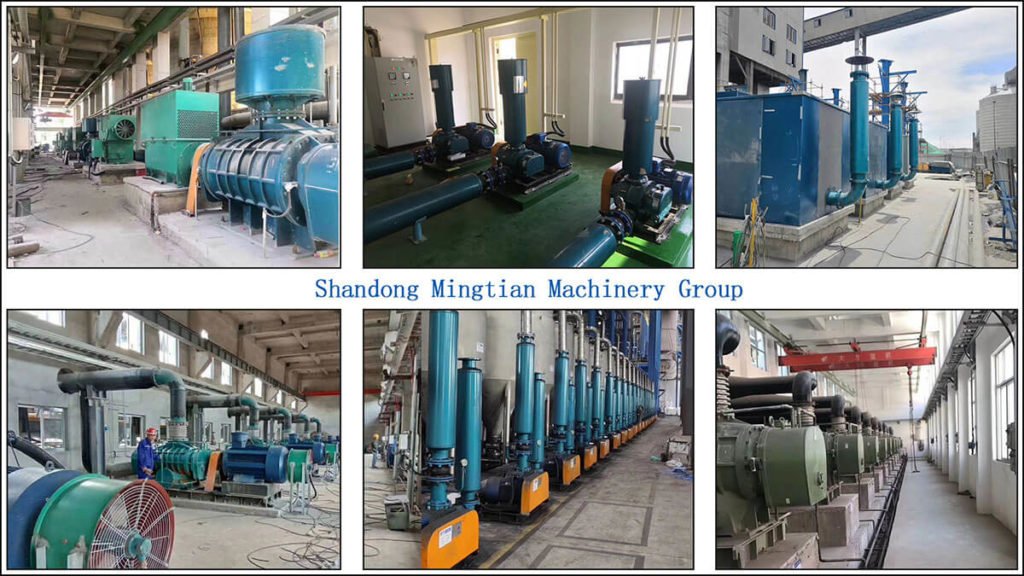 1. Our company Introduced advanced processing technology from Korea and Japan,including CAD,CAM,CAPP. with combination of our company own high technology and rich experience.
2. Zero defective roots blower leave from the factory
3. Strict quality management system and performance testing system
4. Standard data of specification, it is easy for roots blower selection.
5. Dynamic balance could be achieved and no vibration can be felt.
6. Oil-free, no oil pollution for transportation medium
7. Compact structure, small volume, light weight with graceful appearance
8. More than 20 inventions and utility model patents
9. Longer Service Life, lower cost and safer than other blowers.
10. CE and ISO 9001 Certification
11. Shangu Brand under Madrid Protocol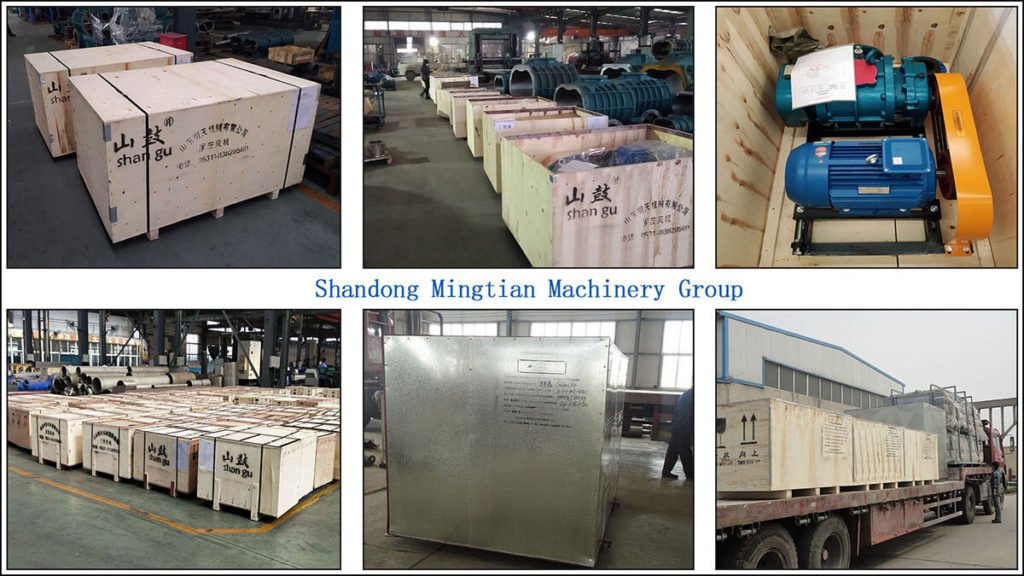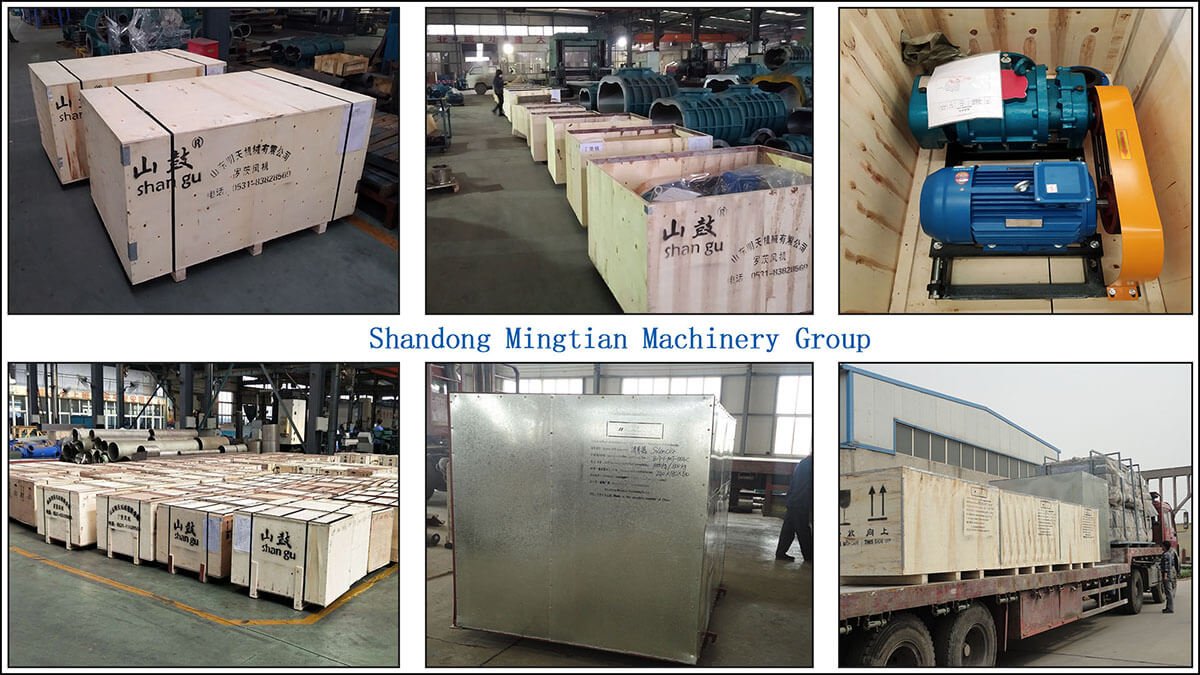 Shandong Mingtian Machinery Co.,Ltd. locates in the famous town of mechanical processing Xianggong Town,Zhangqiu City,Shandong Province, which is a professional enterprise engaged in integrated scientific research, production and sales. The company has advanced CNC machining center and testing equipment 50sets. In 2007, the company have passed the CE/ISO international quality system and have been awarded" customer satisfactory" "observing contract and valuing credit enterprise". In 2008, our tri-lobes roots blower was evaluated key recommendation in Chinese Environmental Protection Mechanical profession association, registered trademark "Shangu" won the Jinan famous trademark. In 2017, We passed the Madrid trademark registration application and got the recognition.
Adhering to the guideline of "Specialty builds quality, Honesty creates future", the company establishes perfect system of before and after sales service and forms eight product series of RSR,MTS,MTR high-pressure , MJ compressed and Roots vacuum pump, High-negative pressure Roots vacuum pump, the double stage high pressure type, Roots vapor compressor. The product has a flow of 0.6m3/min-1059m3/min, pressure rise of 9.8-196kpa, 63 different types, which is widely used in pneumatic conveying, wastewater treatment, aquaculture, chemical, petroleum, metallurgy, electric power, food vacuum package, cement plant, power plant, powder conveying, coal mill, textile plant and many other industries and fields.
Following the production and operation idea "taking reputation based on quality and development based on innovation" as the core, and the cultural idea of "eternal credit and innovation, co-existing product and moral quality."The company is people-orientated and forges ahead to construct a modernized enterprise with advanced technology, scientific management, prosperous business and high-quality talents. The company is willing to cooperate with friends from all over the world to create a happy tomorrow.