The MTRZ series Roots blower is a new product developed and designed by Shangu Group, with years of manufacturing experience, to meet the needs of users for large capacity and high pressure roots blowers. This series of roots blowers uses a special impeller profile design, effectively improving the efficiency of the blower and reducing its energy consumption.
We currently produce 10 sizes of MTRZ ROOTs blower units.
Q = 19200 – 77 000 m3/hour
Main advantages The overall concept of the unit arrangement is designed with emphasis on maximum reliability and functionality, easy inspection, and maintenance.
Low operating costs
Easy operation
Convenient Maintenance
Oil Free Air
Low Noise thanks to Special Casing Design and Combined Silencer
All parts are Machined by CNC Center to ensure accuracy
All blowers undergo two hours of testing to ensure that only qualified products can leave the factory
All impellers have undergone dynamic balance testing
When the pressure rise is lower than 49kpa, no need to use water cooling. It can save the operation cost.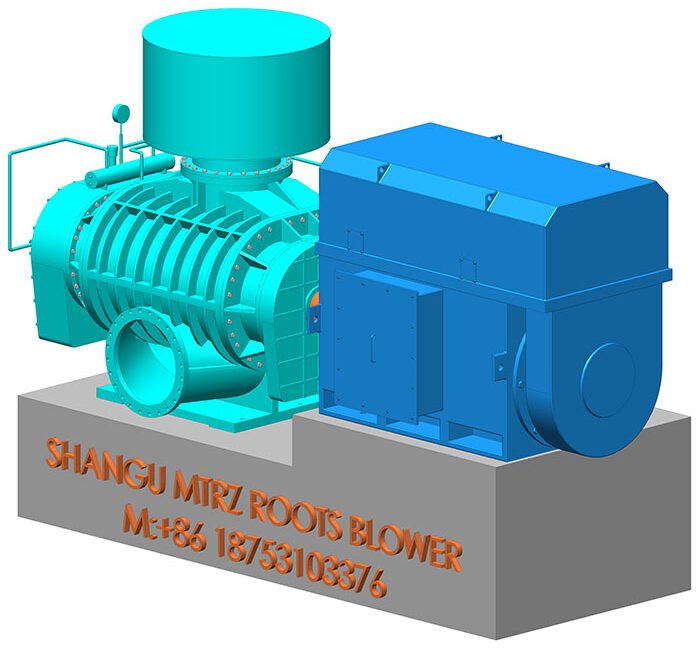 VPSA Oxygen Plant
Pneumatic transport
Flotation
Gas Combustion Supporting
Food Vacuum Package
Natural Gas Compression
Power Plant
Cement Plant Kiln Air Supply
Roots Blower
Couplings
Coupling Safety Cover
Foundation Bolt
Adjusting Pad
Inlet Silencer
Flexible Connector
Outlet Silencer
Pressure Gauge
Safety Valve
Check Valve
Starting Oil Filling
Electric Motor in Efficiency Class IE3
Flange Pads
Operation & Maintenance Manual
Soundproof Enclosure
Bearing Vibration Sensor
Bearing Temperature Sensor 
Lubrication Oil Temperature Sensor
Suction & Discharge Pressure Sensor
Suction & Discharge Temperature Sensor
Matting Flange
Frequency Converter Control Cabinet
Frequently asked questions
For all sizes of unts, we produce our own acoustic covers, adapted to the location and customer requirements. These in conjunction with our silencers show a high noise attenuation efficiency.
At the same time, we design the set in the middle band of the speed spectrum so that the resulting sound pressure level is as low as possible.
If we know all the parameters, then processing and sending the offer is a matter of a few hours.
Do you have a question? Write us
Leave us a contact and we will get back to you.